To new guests and returning friends:
Hello!
We come together as a community of women believers to worship our Savior, Jesus Christ! We are so happy that you have come to see what this year's conference is all about. There are several options across the top of this main screen that should help you navigate through this page easily. If you have any questions at all, there is a "Contact Us" selection at the bottom of this page that will get you a phone number. Also, to check out the churches that help to support the Hokes Bluff Women's Conference and their ministries and missions, find the "About" selection at the bottom of this page.
We are so excited to announce our 2019 theme "All In". Please join us August 23-24 at First Baptist Church Hokes Bluff as we renew our minds and learn from each other. Please see the "Speakers" tab as well as the "Adult Strategy Sessions" tab and "Youth Strategy Sessions" tab for more information on speakers and teachers for this year's conference.
We want you to know that we have prayed for you and are continuing to pray for you. We look forward to seeing you there!
Much love and blessings!
The 2019 Hokes Bluff Women's Conference Committee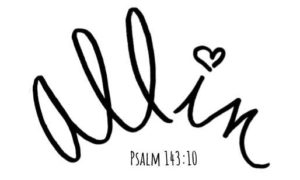 Teach me to do your will, for you are my God. May your generous spirit lead me forward on a firm footing.
Psalm 143:10
Dear ladies-
I'm so excited about our 9th annual Hokes Bluff Women's Conference and also excited about the new time of year that we have chosen. I hope the change will be refreshing and hopefully more convenient for everyone to attend. This year's theme is "All In". To be "All In" requires just what it suggest "All of us". It is not halfway or questioning, but it is to trust God completely with every area of our life. To know that He is in control and what He calls us to do is for our best. It is to be spirit led and not flesh led. "All-In" to me deals with a word that is very hard for so many of us and it is obedience. To be "All In" we must be obedient to God wherever He may lead us. God calls us daily to be "All In"! Sometimes we want to be all in what we want to do, or what we want to feel, or what we want to see happen. God is calling us to be "All In" for what He has for us, what He has for our church and family, and to what he has called us to do. Obedience is a hard word and a hard topic. I think we all struggle with it for different reasons. I hope and pray that this year's conference speaks to each lady individually and that they find what it is that's keeping them from being completely obedient not only in the big picture of what God has called them to do but in the daily steps it takes to get there. For many of us it is selfishness that keeps us from walking in obedience, for some it is rebellion, for others it is different forms of fear that cripples us in our walk. For so many it's the inability to stop and be still and know that He is God and hear the direction that he's calling us in. I pray that God shows each of us, including myself, what "All In" really is. God has placed truth on my heart of how important obedience is in everything we do every single day. God has also placed a desire on my heart to share with other women the importance of daily obedience. I struggle with disobedience for all of the reasons that I have already mentioned and I know that so many women struggle also. Because of this I have a desire to share what God has laid on my heart about being "All In" and where that can bring us in our Christian walk. Obedience will bring us deeper than we ever dreamed we could go, it will take us down the path to exactly what God has for us so that we can experience the fruits that he has promised us, and the abundant life that is our inheritance as daughters of the King. I know what it's like to follow the path of disobedience and to miss so many of the blessings that God has for us and I have a passionate desire to guide other women not to miss out on those blessings. God has something great in store for each of us and I pray that we take those small steps daily down the path that He has for us even when they lead us through the valley so that we can reach the mountaintop and take huge leaps of faith in His name. This is the path that will help us continue to walk that steadfast journey of obedience that is required in the Christian race. I hope that each of you are able to join us at this year's conference as we dive into "All In" together.
-Cassie Shields